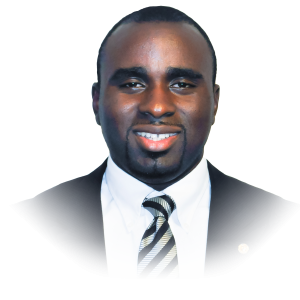 Early Life
Mayo Makinde  - Mayo is a community advocate born in Columbus, Ohio. He attended Marysville High School, however he later transferred back to the Columbus Public School system where he attended Eastmoor High School and graduated in 1998.
Shortly after high school, Mayo began taking classes at Columbus State Community College. However, he was later recruited by Western Kentucky University to play football. In 2002 Mayo helped lead the Western Kentucky Hilltoppers football team to their first Gateway Conference and National Championship. He went on to earn his bachelor's degree in 2004.
Early Political Involvement
Through the Democratic Party, Mayo was hands-on with Democratic campaigns flowing through Franklin County. During February of 2005, he began volunteering for the Ohio Legislative Black Caucus. It was at this juncture that he gained insight on how grassroots organizing can lead to a bill becoming law. In 2006, he coordinated the Franklin county region of the Barbara Sykes for State Auditor campaign holding multiple roles including fundraising and outreach. At this time, he also assisted the Ohio Democratic Party with African American outreach and the GOTV campaign for the gubernatorial election. During this time, he along with a few Ohio Statehouse aides under the tutelage of the county party chairman founded the Ohio Young Black Democrats, an organization which seeks to promote and engage young African American leaders across the state. He was also active in the local and state NAACP at this moment of his young life.
He joined organizations such as "Simba Nation", a youth mentoring program. In November 2007, the group traveled to Oakland, California for the national event called "The Gathering for Justice for Youths" . This organization was initiated by Harry Belafonte and Danny Glover. He also runs a youth program called "Counseling and Encouraging Minority American Youth" where he teaches young people the pure fundamental skills of better decision making when faced with sex, violence and drugs.
First Run
In 2008, Mayo ran for State Representative in Ohio's then 27th district. Although he didn't win the election, he continued to serve his community and was elected to be president of the East Columbus Civic Association. It was there that he partnered with faith based organizations to fight for change and equality in the Columbus community.
Claim to Fame
His claim to fame in Columbus was his work bringing the public and private sectors together to find a resolution for underserved communities when the city of Columbus closed 12 recreation centers in 2009 due to a budget crisis. Committed to using the inner city facilities, he frequented Krumm Recreation Center along with other city amenities. Mayo was able to lead community members and faith based leaders to city hall to advocate for the reopening of those centers. He played a crucial role in getting the Columbus Blue Jackets to donate funds towards this cause. Doing this work lead the Brentnell Recreation Center to recruit him for their Community Recreation Council (CRC) where he once served as the Vice President. In this role Mayo assisted in raising funds used to support activities for the youth.
Community Advocacy and Professional Background
Mayo is a proud member of Omega Psi Phi Fraternity Inc. When not volunteering with his fraternity, Mayo spends his leisure time as a lead host of Global Views, a political talk show. He has also been volunteering with the city of Columbus as a Recycling Ambassador since 2010, helping to educate neighborhood organizations on the city's blue container program. One of Mayo's many roles as a community advocate is serving on the Franklin County Commissioner's New American Advisory Council where he works to provide a more welcoming atmosphere for New Americans in Central Ohio. Mayo worked for Franklin County for 13 years. These years were divided between the board of elections, jobs and family services, and the corrections unit in the sheriff's office.
Mayo at the DNC
In 2016 Mayo took another run for the Statehouse seeking to represent the 25th district, formerly known as the 27th due to redistricting. Finding viewpoints aligned with the US senator from Vermont, Mayo became a local surrogate for the presidential campaign of Bernie Sanders for America. He later went on to join the Ohio delegation (representing from the 3rd congressional district) for the Sanders campaign at the DNC convention in Philadelphia.
Mayo Today
Since 2016, Mayo has become more active with progressive organizations, such as Move to Amend, Ohio Revolution and Our Revolution NW Ohio. He has also started a Progressive Democrats of America chapter in Columbus. He serves on the state board of the Single Payer Action Network (SPAN OH) while maintaining a working class income as a small business owner.
As a democratic ward leader, his work with Our Revolution & SPAN Ohio have respectively lead him to Capitol Hill lobbying Congress for the reinstatement of the FDR 1933 Glass-Steagall Bill now being sponsored by Congresswoman Marcy Kaptur and U.S. Senator Elizabeth Warren, and  to the Ohio Statehouse for Single Payer legislation. Mayo is still active as a local central committee ward leader for his county Democratic Party, representing Linden. In addition to lobbying Congress he has been actively  holding civic and political education sessions with segments of his constituents and neighboring communities. Mayo sincerely believes in a government of the people, by the people and for the people. This fuels his passion to get all people actively engaged in the American Democracy so that it can fulfill its promise to work for all Americans.